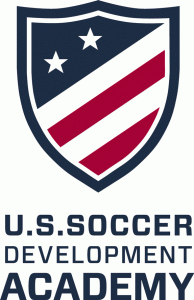 1 That tournament vibe
There's something about futsal events that create an intense, entertaining vibe every single time. The immediacy of the crowd, the volume of goals, and the creativity of play always generate an electric atmosphere. The NorCal Showcase was no exception. Well done USSDA.
2 The unlimited pass back rule must go 
The tweak in the rules to make the Showcase more soccer like does exactly that. However, when the keeper is used relentlessly as a safety valve, players no longer have the need to solve problems on their own. Much in the same way walls in indoor soccer are used to avoid trouble, the unlimited pass back rule takes tons of pressure off the court players. There's no need to take your defender on 1v1 or pass with precision in an attempt to build out. Instead, just dump it endlessly to your keeper and turn the game into a constant 5v4 that slows the game to a crawl. Simply an awful rule that should be nixed. If not, let's call the game mini soccer since it ceases to be futsal.
3 Tactics are largely non existent
I once asked a FC Barcelona coach if the 2-2 formation was used in Spain. He paused and struggled with the question for a moment before answering, "Perhaps the odd recreation club still plays it." At the Showcase everyone played it with the exception of the 3-1 used by Ballistic United. USSDA should be congratulated on providing these annual events. Some futsal is better than no futsal. And sending scouts to observe the nation's top talent is also commendable. However, US Soccer by not educating its DA coaches on even the most basic of tactics is leaving the fruit on the tree. Many DA coaches have never played futsal let alone coached it, so an effort to educate is essential. By next year every DA club should be playing the 3-1. US Soccer should take its winter futsal mandate seriously and teach the game. Otherwise it's mostly window dressing.
4 Futsal's filter catches all impurities
US Soccer is wise to scout these events. Futsal is a ruthless filter of ability. Within seconds you can assess if a player is able to manipulate a ball, make quality decisions under time and space constraints, and move off-the-ball. Raw athleticism never hurts, but futsal exposes those players that get by with size, strength, and speed in the outdoor game. There is nowhere to hide on a futsal court. You can either handle your business, or you get revealed immediately. At the NorCal event only a handful of players were advanced dribblers and decision makers. Perhaps less than 10% of the participants fell into this category. With meaningful, year round futsal training from a young age, there's no reason this number doesn't climb to 50% or more.